Mobility Management magazine has named Comfort Company's Vector-X wheelchair cushion with GlideWear technology one of their readers' best picks for 2015.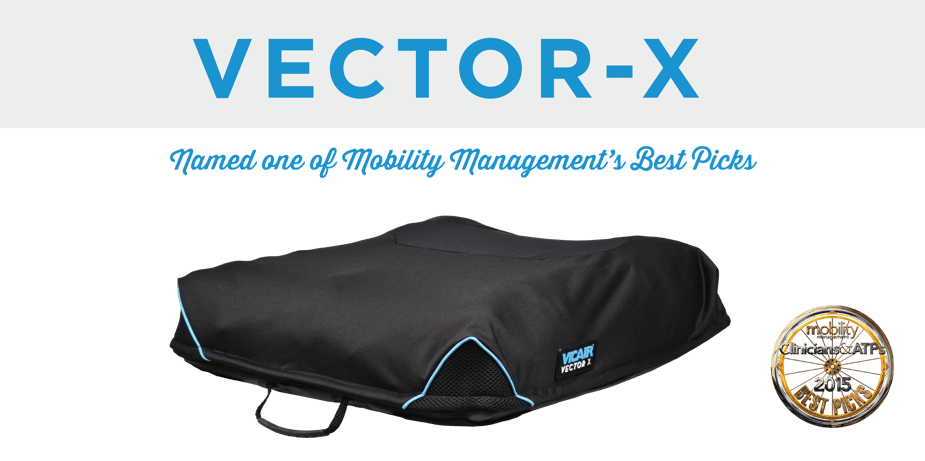 Vector X with GlideWear Testimonial:
I love the GlideWear technology. When chosen for the right individual, it's great to reduce the amount of shear force in the transfer, and I have found it to help the "active" crowd who continually moves and shifts in the chair without pressure relieving. Great cushion, great covers.
— Rob Lins, ATP, RTS, Home MediService Inc., Havre de Grace, MD
Click here to view the entire list of Mobility Management Best Picks 2015.
Unlike similar fabric technologies that offer shear and friction protection in seating & mattress applications, GlideWear Technology (Tamarack Habilitation Technologies, Minneapolis, MN USA) focuses shear and friction reduction ONLY in areas of concern; ensuring the user can maintain proper seating posture and stability while realizing the friction, shear, and microclimate benefits of the patented GlideWear material.
GlideWear Technology is licensed exclusively in North America to Comfort Company (New Berlin, WI USA) for installation on Comfort Company and Vicair brand wheelchair cushions. Additionally, GlideWear technology is available in a patch format to help amputees relieve and prevent skin breakdown between their prosthesis and skin (GlideWear Prosthetic Liner Patch).
By mid-July, Tamarack will also release a new line of Shear Protection Underwear for men & women who develop decubitus ulcers from wheelchair and extended bed use as well as Shear Protection Heel & Ankle Socks for individuals who develop skin breakdown due to orthopedic bracing, footwear, and extended bed use. Additional applications for GlideWear technology are in development by Tamarack and under license to partners, worldwide.